When it comes to Search Engine Optimization, the first tool that usually comes to everyone's mind is AdWords' Keyword Planner. However, despite its undoubted authority and efficiency, there are SEO tools out of the spotlight that provide fantastic features, and on top of that – fun! Today, we will talk about KWFinder, the SEO tool developed by Mangools that will let your creative juices flow all day long.
1. What is KWFinder?
KWFinder is a keyword research and analysis tool that help you find long-tail keywords with low competition and low SEO difficulty. It has an extremely visual and user-friendly interface that I'm personally obsessed with, and an interactive dashboard to manage all the information.
The SEO tool offers the following features:
SEO Difficulty – with this feature, you can get real-time keyword difficulty by checking the page authority, the domain authority, the external links that are taking users to your page, and the social signals coming from platforms such as Facebook, Twitter and Google Plus. This functionality helps you decide the keywords that give you better chances for ranking on the first pages of Google according to your authority level.
Hidden keywords – this feature let you find hundreds of interesting and potentially good keywords that your competitors are missing, providing an opportunity score for each one of them.
Search volume and keyword metrics – this feature helps you get the exact search volume for any keyword or its close variants, explore search trends from the last 12 months, do a PPC keyword research, and personalize your lookups so you don't get metrics that you aren't interested in.
Local SEO – another interesting and really helpful feature that many SEO tools are lacking, but KWFinder provides, is the possibility to obtain localized keyword results so you can improve your niche performance. Based on your location, the platform will give you precise total search volume, local metrics, and precise language results.
Additionally, KWFinder helps you organize and manage your keyword lists, export and import keywords in bulk, filter unprofitable ones, use the Google Suggests algorithm for searching for new terms, and perform a SERP analysis.
When you start searching for keywords, the tool gives you the following 3 options:
Suggestions – they are based on a keyword database, and a know-how algorithm;
Autocomplete – an option that lets you generate additional related keywords by using the main seed keyword;
Questions – this option enriches the main keyword via possible question words that users might be using when typing in the search engine;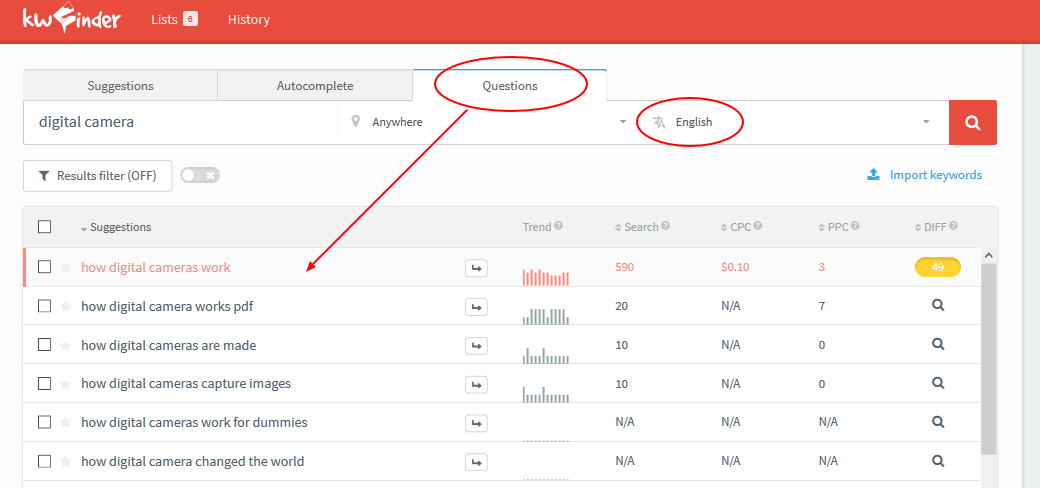 On top of that, you get to try KWFinder for free even without registration, and obtain basic valuable information until you decide whether you want to subscribe to their services. Which is great, because other tools blur out pretty much all the information, which can be very frustrating if you are trying to evaluate the utility of different tools.
Your free account gets you 3 lookups per 24 hours and 50 keyword suggestions per search, and we will take a look at the pricing of the other plans at the end of the article.
Mangools, the company behind KWFinder, provides a great additional value with its own SEO Academy and the KWFinder Guide to help you get the SEO basics and most important techniques.
2. How do I activate it? Do I need to download anything?
No, there isn't any need to download anything. Because it's a cloud-based software, you can access it from any device via your Mangools account.
3. Can I get a certification in KWFinder? Does it cost anything?
Yes, after you have finished all 8 tutorials from the Academy, you will be awarded the Mangools' SEO Academy for beginners certificate of completion. It is free and you can add it to your resume to show off your keyword search skills. You can obtain more information here.
4. KWFinder Rating
PCMag: 4.0 / 5.0 (editor's rating)
DMRater: 4.8 / 5.0 (editor's rating)
HomeWorkingClub: 8.7 / 10 (editor's rating)
5. Features overview:
Long-tail hidden keywords finder;
Keywords lists;
Google Suggest keyword source;
Import and export of keywords;
Filter unprofitable keywords;
Local SEO;
Keyword difficulty;
Search volume and keyword metrics;
SERP Analysis;
Suggestions, questions and autocomplete options;
Language optimization;
Page and domain authority;
6. What are the pros and cons of KWFinder? 
Pros:
Good variety of features;
Interface is user-friendly and easy to navigate;
Affordable prices for individuals and small businesses;
Additional tools included in the price;
Results are data-driven;
Local SEO;
More than 40 languages;
Offers features that not all SEO tools offer.
Cons:
Extremely limited free plan;
Sometimes data estimation can be inaccurate;
Lacks some important features that other professional SEO tools have.
7. What prices are associated with it?
The prices depend on the features that are included in each plan, and whether you are going to pay monthly or annually (you get a 40% off if you pay annually).
Monthly:
Annually:
Depending on the plan, you can get between 100 and 1200 keyword lookups per 24 hours, 200 to 700 keyword search suggestions, 100 to 1200 SERP lookups per 24 hours, and an in-depth rank tracking.
One really important thing to consider is that for these prices, you not only get the KWFinder tool, but you get the full pack of Mangools' tools, which includes:
SERPChecker – a tool for analyzing competition and obtaining Google SERP Analysis. It lets you evaluate organic search results, perform desktop and mobile segmentation, and obtain more than 45 SEO metrics.
SERPWatcher – a rank tracking tool that lets you monitor the progress of your keyword positions and their estimated visits. It includes DEMO tracking, dominance index, and keyword position flow, as well as ranking distribution charts.
LinkMiner – a backlink checker tool to that lets you monitor Link Strength, mine competitors' backlinks, preview websites, and filter specific types of backlinks. This one is still under development, but it should be available on the platform soon.
In total, you get all 4 Mangools tools included in the pricing.
8. What else should I know about Mangools and KWFinder?
The company and their SEO tools are surprisingly not that popular yet, but they are an awesome alternative to Keyword Planner, and really affordable for small businesses and startups! Don't forget to check them out!
Stay updated for other posts on SEO, and you can check my review on other Digital Marketing tools:
Thank you for reading, and see you in the next post!
Greetings,
Ani