If done right, Email Marketing can be a highly effective strategy for building a long-term relationship with your leads and customers. However, even companies with experience can sometimes commit Email Marketing mistakes that can cause their audience to disengage with their brand and content.
Today, we will see what are some of the most common mistakes that companies can make when doing Email Marketing.
And most importantly, what are the best practices to implement to avoid harming your relationship with your contacts. So, without further ado, let's dive right into the worst Email Marketing mistakes that you should avoid at all costs:
1. Abusing the subject line
Photo source: Optinmonster.com
First on our list of common Email Marketing mistakes is abusing the subject line, mainly by clickbaiting your audience.
The subject line is one of the most important elements of any E-mail campaign. According to OptinMonster, almost 70% a company's subscribers will consider an e-mail  a spam because of a too aggressive subject line.
With all the amazing ideas out there, it is extremely tempting to write catchy subject lines that will wake up the curiosity of your user, such as:
"We need to talk"
"Don't open this e-mail"
"We have bad news…"
"There is still time…"
In fact, a lot of these phrases are listed by companies as examples for catchy subject lines with high open rates. And of course, I am not saying that this isn't true.
However, the way I personally see it is that it is not all about open rates. If the subject line doesn't say anything meaningful for the user, you risk creating false expectations that your e-mail might not live up to.
Your end goal should be providing valuable and relevant content of interest to your audience. If you try to trick them with a subject line that is inconsistent with this content, your high open rates won't keep your readers engaged.
Yes, your catchy subject line will probably do the trick to get the user open your email out of curiosity. But do you want to get your audience tired of meaningless subjects until they just decide to unsubscribe? Or even worse, mark you as spam?
Probably not.
On top of that, people receive various e-mails per day by many companies, so it is possible that these lines are not even original anymore.
What to do instead
Instead of using trivial subject lines, try to sum up what your e-mail will be about in a creative way. Here are a few examples:
10 Killer Content Marketing Tools;
Reach your audience…without their contact information.
Copy our 7 Best Facebook ads of 2016;
Here's the REAL reason Amazon is buying Whole Foods.
If you need more examples, Digital Marketer has a long list of e-mail subject lines. There some examples as the ones that I just didn't recommend, but I think that you will be able to spot them in no time. 🙂
Email Marketing Mistakes #1: Clickbaiting your audience with the subject line
The key takeaway is to be consistent with your email from start to finish. Let your audience know what they can expect from your content from the subject line.
If the only way to make them open your email is by tricking them into it, they probably weren't that interested in your content in the first place! In which case, maybe you should re-order your priorities, starting from making better content. 
2. Going overboard with Email Frequency
Exactly how often you will send e-mail updates to your subscribers can be a little bit tricky. And this is why it's one of the most common Email Marketing mistakes that people make.
If you rarely send any e-mails to your database, you are not really using it for the purpose for which it was created in the first place. Not sending any emails is almost the same as not having a contact database at all.
It doesn't make sense to build an audience if you are not going to interact with it.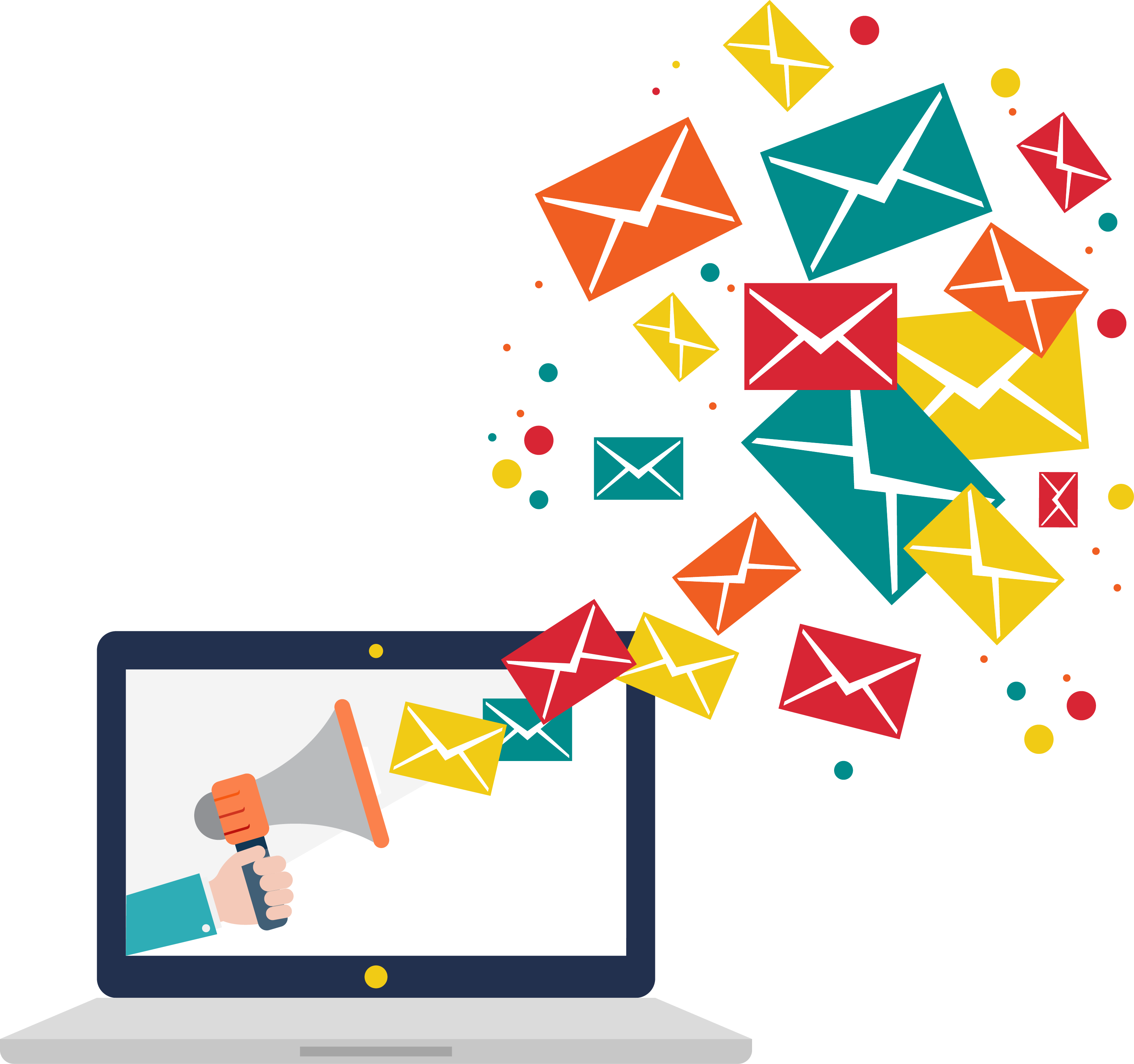 But, at the same time, overwhelming your audience by shooting multiple emails on the daily isn't precisely the solution either. The only thing that you will achieve is to put yourself right into the spam folder.
Or directly out of this user's life! 🙂 (Okay, that was a bit over-dramatic).
Frequency Factors
Of course, there isn't a magical number of email frequency that will fit everyone. This number will depend on different factors:
Industry
Digital magazines, newspapers, and other media channels that mainly focus on providing content can get away with high email frequency. In fact, a lot of people subscribe to them with the main purpose of getting daily emails with the latest news.
Other industries, however, such as Consumer Goods and Travel, send emails at a much lower frequency:
Engagement / Key Performance Indicators
How engaged are your current email subscribes with your email content? If you are seeing consistently high open rates, link clicks, and even purchases, you can try increasing your email frequency a little bit, and see how it works.
Then, keep increasing it little by little over time, carefully controlling your key metrics. If you notice that engagement is declining, it might not be the right frequency for you. So, you will have to adjust as necessary.
Email Marketing mistakes #2: Email frequency
If, however, you see that your engagement increases or doesn't change, you can continue increasing your email frequency until you find the sweet spot.
How can you know if your KPIs are higher than the average for your industry?
Here are a couple of resources that can give you an estimate of industry averages:
GetResponse.com – it has a comprehensive gallery of email frequency statistics by continent, country, and industry:
SmartInsights.com – this website also has a huge compilation of frequency statistics updated for the current year.
Email type
Another factor that plays an important role in determining your frequency is the type of updates that you are sending to your audience. If you are using your email list to constantly spam them with product updates, your engagement will probably not be very high.
Of course, this will depend on the business. However, try to spice up your content with a mix of information that your audience will find valuable. Your email list should not only be so you can continue selling your products!
Here are some email type benchmarks by Smart Insights and Quicksprout.com:
Benchmarks: Smart Insights
Benchmarks: Quick Sprout
As always, the best option is almost always to test it out for yourself and your specific industry. Email Automation tools such as MailChimp allow you to see how subscribers react to your e-mail in terms of key metrics.
Obviously, if you see that too many users are unsubscribing, you might need to try out with a different frequency.
Personally, I think that 1 or 2 times per week is a good starting point to spread your message without annoying your subscribers.  Working in a B2B company, we like to stick to once per week.
And from my experience, I think that this is a reasonable number for many other companies.
3. Hiding or leaving out the unsubscribe option
One of the most common Email Marketing mistakes that companies make is hiding the unsubscribe option in your e-mail template. Or make it difficult to find or see by the user.
Obviously, you don't want users to leave, right? Nobody does.
The thing is, if they want to leave, they will find a way to do it. And making it difficult for them will only make things worse – for you. In fact, if they can't unsubscribe they might simply mark your emails as spam.
Now, we don't know for sure what email service providers do with emails marked as spam. They probably keep a blacklist of domains, so if too many people flag you as spam, you risk being penalized.
Whatever the consequence is, it's probably not something that will positively impact your business! So, better be safe than sorry.
Email Marketing mistakes #3: Making unsubscribing difficult
Unsubscribing is not that bad. The majority of people might still love your company and your products. Only because they don't want to receive e-mails any longer doesn't necessarily mean that you have forever lost a potential client.
They just don't want to be bombarded with emails from multiple companies.
The easier you make unsubscribing, the better. Making users enter into their accounts, open different pages, or answer various questions before being able to opt out will only annoy them. And, as we already mentioned, you risk being flagged as a spam.
Data regulations
According to Litmus.com, all major laws require companies to give their subscribers the opportunity to opt out of their email list. Some of these regulations include:
CASL – Canada's Anti-Spam Legislation;
CAN-SPAM – the US legislation signed into law in 2013;
GDPR – the European General Data Protection Regulation implemented in May 2018;
In fact, the article 7 (3) of the GDPR clearly states the following:
"The data subject shall have the right to withdraw his or her​ consent at any time. (…) It shall be as easy to withdraw as to give consent."​
So, you have no reason to make email opt out difficult for your users!
4. Making your Email campaigns about you
Let me tell you a little secret: people love to hear about themselves. And there is nothing wrong about that! It is in our human nature.
Having said this, one of the most common Email Marketing mistakes is to make your email campaigns about you. 
Don't send hundreds of e-mails talking about how amazing your company is. Or how wonderful your products are. People don't want to know how you are far better than the competition. Even if it's true, they don't care.
Email Marketing mistakes #4: Making your campaigns about your company
Your audience doesn't care how good you are. They want to know what your company and products can do for them. Is your product solving an actual problem they have?
It doesn't matter how good your product is if it isn't something that they actually need.
So, the next time you design your email campaign, focus on things like:
How much time your product saves them;
In what way it makes them gain more clients;
How much money they can save with it;
And of course, don't forget to provide them with valuable content such as blog posts, ebooks, and other resources. This way, they will be able to see that you are trying to be as helpful as possible. And you aren't just there to sell your product.
5. Not testing before sending
Another one of the most common Email Marketing mistakes that you can make is sending your emails without testing them.
Before you launch your E-mail campaign, it is essential that you test it with your team. MailChimp, among with other similar Email Marketing companies, allows you not only to pre-visualize your content before sending it, but also to send it to yourself for testing.
Email Marketing mistakes #5: Not doing proper testing before sending
Some important elements to check before sending the email to your audience include:
Broken links – are all of your links functioning correctly?
Wrong or missing links – maybe you forgot to include a link that you were supposed to?
Grammar – nothing reduces your credibility as bad grammar;
Typos – even if your grammar is perfect, nobody is immune to typos!
Social icons – many email templates include social icons. Check if they are working properly!
Images – are all images included and loading correctly?
Before you send your email, send it first to yourself and even your colleagues if necessary. Check if all links, images, and icons are working properly. This way, you will ensure that you are sending fully professional emails to your audience.
6. Making personalization errors
Personalizing your emails with the name of the recipient is considered a great outreach practice. According to Backlinko, emails with personalized subject lines can boost response rate by up to 30.5%:
Email Marketing mistakes #6: Not personalizing your emails properly
However, one of the most common Email Marketing mistakes is to not format properly the variables for name and customer information.
If you fail to format personalization variables properly, you can end up with your email looking like this:
Image source: Zapier.com
Needless to say, this mistake can hurt your company image and make you look unprofessional. Although it can happen to anyone!
How to add personalization tags properly might vary between email service providers. You can learn more about this topic here. However, it's always a good idea to double check with the content sources of your own email provider!
7. Not being clear with your Call to Action
When you are sending an email to your audience, you usually know what is your purpose with it. You know exactly what you are expecting your users to do once they receive it.
You probably want them to check your latest product update. Or download your ebook. Maybe read this week's blog posts?
Whatever the purpose, we often make the mistake to assume that it's obvious to our audience as well. Which is not always the case.
Email Marketing mistakes #7: Unclear or too many CTAs
There are a couple of Email Marketing mistakes that you could make with your Call to Actions:
Having too many CTAs
Having too many Call to Actions can be very overwhelming for your audience. And of course, highly inefficient when it comes to achieving your goal with the email campaign.
Just take a look at these three CTAs, all jammed within a small section:
Learn More
Download Our Program Guide
Contact Us
If you are overloading your audience with too many possibilities, this might cause decision fatigue. According to psychologists, decision fatigue can lead people to avoid making a decision entirely.
In which case, what you might be doing is auto-sabotaging your own email marketing campaign!
Luckily, this is a mistake that can be easily corrected:
Focus on your main goal – when designing your email, you probably did it with a single goal in mind first. And then you probably thought "Well, now that I am sending the email anyway, why not add a few more things that I have to say?" Remove all the secondary elements and only focus on your initial goal.
A/B Testing – if you don't have a single CTA to focus on, and you are worried on missing the impact of the others, you can always perform A/B Testing. This way, you can see which one actually converts, and which ones must go. You can use a heatmap to see which CTAs got clicked the most.
Not having any CTAs at all
The opposite mistake of having too many Call to Actions is not having any at all. 
All of your emails need to have a purpose and a clear CTA associated with it. What exactly are you expecting the recipient to do with your message? What do you want him to do?
If you are missing a CTA, your audience will most probably not take any further action after reading your email. They won't know know what exactly is expected from them, and might not bother reading the full message to find out.
8. Not sending a Welcome email
Someone just subscribed to your email list! That's great. However, your work doesn't end there.
One of the biggest Email Marketing mistakes you can do is not sending a Welcome email when users are most engaged with your business. After all, they just signed up to your email list because they want to receive more content from you.
As we saw in the graphic from Quick Sprout in section 2, Welcome emails have the highest Open Rate on average compared to other email types:
Email Marketing mistakes #8: Skipping on the Welcome email
So, as soon as someone signs up for you email list, they should immediately receive a response from you.
Use this email to thank your reader for subscribing. Take the opportunity to introduce your business, and explain what's next to come.
There are thousands of different approaches that you can take to achieve the same goal.
Here is this great example from Trello, a web-based list making application:
Here is another example that I really liked from Runtastic, an awesome app for runners:
9. Forgetting about mobile
According to Email Monday, smartphones are the most used devices for checking email, especially for younger people under 35:
Email Marketing mistakes #9: Underestimating the importance of mobile
In fact, over 81% of them said that they use their mobile phone for regularly checking emails.
For you, this means that all of your email marketing campaigns should be mobile-friendly.
Your email content and formatting for mobile devices should be:
Simple, clean, and easily readable on a small screen;
Structured into short paragraphs within a single column;
Including images that are no wider than 600 pixels.
Using a large font size;
Additionally, it is important that you pay close attention to your subject line length. A typical inbox usually displays up to 60 characters, which is the recommended maximum for a subject line.
However, mobile devices show no more than 25-30 characters. For you, this could mean having to optimize your subject lines for smartphones. Not necessarily though. First, check with your email service provider the percentage of web visitors coming from mobile compared to desktop.
If you notice a great majority of visitors coming from mobile, it is probably well worth it keeping your subject lines under 30 characters. 
Furthermore, keeping your email short, concise, and structured into small paragraphs will be key for making your campaign mobile friendly. Avoid fonts smaller than 10 pixels. They are probably fine to read from desktop, but definitely not from a smartphone device.
And last but not least, make your CTA easily distinguishable from the rest of the text:
Otherwise, it will be very easy to miss it if it's hidden within your text.
10. Sending content to a purchased list
One of the most dangerous Email Marketing mistakes, which is especially tempting to beginners, is sending emails to a purchased list.
A lot of companies or individuals who are just starting with email marketing, and don't have a community yet, might get tempted into making a shortcut.
Email Marketing mistakes #10: Working with purchased lists that didn't give consent
First, this is an illegal and really bad practice. And might get you into trouble with some of the regulations that we mentioned earlier. Second, the majority of email service providers won't allow you to use a purchased list at all.
In fact, when you are uploading an email list, they will ask you if you have their consent to send them emails. Email service providers monitor closely everything in their system. And they usually know if you are trying to use questionable databases.
And third, sending emails to a list of users who didn't consent won't get you anywhere either. They probably don't know your company and and will not be engaged with your business. You are literally invading their inbox and as a result, you might simply be put into their spam folder.
11. Being too aggressive with your approach
Our list of Email Marketing mistakes continues with trying to sell way too aggressively with your Email Marketing strategy.
We already talked about the importance of finding the balance between your content.
Your customers probably didn't subscribe to you just to receive emails about your products. They subscribed because you promised to bring them value. This means that you need to establish a highly engaged relationship with them on the long term.
This also means that you should not only avoid being aggressive with the type of content. But also with the language of your emails. Don't try to use them with the sole purpose of convincing your audience how much they need your product.
Furthermore, if a person subscribed to you, he probably considers you an authority on a certain topic. For example, if you are selling laptops, it doesn't mean that the only thing you can do is sell laptops.
Email Marketing mistakes #11: Trying to sell too much
You probably have an expertise on a topic that the majority of people don't. 
This means that you can give your audience additional tips and advice on:
How to take care of their laptops;
Which are the best accessories for a laptop;
What to do if there was a technical issue with the laptop;
What are the peculiarities of a specific brand.
Use your email list to send your users content that can provide additional help for their product. Or, if they haven't purchased from you yet, they will see that you are actually trying to provide valuable information instead of just selling aggressively.
Which significantly increases your trustworthiness and makes you a reference on the topic for this user.
12. Not using customer segmentation
Next on our list of Email Marketing mistakes is not segmenting your audience.
Email Marketing, and Marketing in general, are significantly more effective when the message is targeted. This means that probably not all of your emails are suitable for all of your email subscribers.
Let's say that you are a sending an email on how your users can get better advantage from your product. But what if they haven't purchased yet? They will not be interested in this email, and it will probably hurt your performance results.
What if you are sending a special discount to new subscribers, but you end up sending the email to everyone? Of course, nobody is going to say no to a good offer. But this can go really wrong if suddenly thousands of users are claiming their discount.
Email Marketing mistakes #12: Not segmenting properly
And writing your users again to tell them that the discount wasn't meant from them isn't the best option either.
Depending on your product and email type, you can also segment by demographic information such as age and gender. For example, in the company I work at, we sometimes make challenges exclusively for women, in order to encourage women presence in the tech industry.
Sending this challenge to everyone on the list would make it feel very impersonal and unprofessional.
Furthermore, segmenting your audience on deeper behavioral data such as purchasing habits can bring even more value to customers.
13. Neglecting Analytics
And last but not least, neglecting your analytics and performance data is definitely one of the worst Email Marketing mistakes because it may impact the effectiveness of your campaigns.
Email Marketing mistakes #13: Not taking advantage of your own data
You should closely monitor your metrics and key performance indicators, such as:
Open rates – what is the open rate for your emails, and how does it vary between different email types? For example, if you notice that newsletters get a much higher open rate than product sales, this is saying something important about the email preferences of your customers.
Click-through rate – having high open rates not always means that your email campaign was effective. How many people actually clicked on the links or the CTA that you've provided in your email? If the answer is: not many, you might want to check the value of your message, and even the placement of your links.
Unsubscribe rate – how many people unsubscribed from your list after receiving an email? Is the unsubscribe rate consistent with every email? This can help you understand if there is a type of email that your audience doesn't like to receive. Or if the problem is your email frequency.
Conversion – how many people completed the expected action with your email? Do they convert after opening your email?
Bounce rate – in email, bounce rate makes a reference to the percentage of undelivered email. A hard bounce rate means that the email address that you delivered to is wrong. In which case, it should be removed from your list. A soft bounce rate usually means a temporary delivery problem such as the servers being down.
Common Email Marketing Mistakes – Conclusion
As a conclusion, there are many email marketing mistakes that nobody is immune from doing. Especially if you are just starting with your Email strategy and you don't have much experience.
However, this doesn't mean that you can't reduce the possibilities for making a mistake:
Pay a good attention to every detail before sending out the email;
Don't forget to test it on different devices, such as mobile and tablet;
Pay attention to your analytics and key performance metrics;
Perform A/B testing to find the content that your audience is the most engaged with;
Keep your CTA clear and straightforward;
And of course, keep your users engaged from the start with a Welcome email!
Well, that's all from me for now! If you liked my article on 13 Common Email Marketing Mistakes, you might want to check the rest of my content! And if you have any questions or doubts, do not hesitate to leave them down in the comments below!
Which one of the Email Marketing mistakes do you think it's the worst? Give me your opinion!