With the incredible reach of smartphones across the globe, and the steady increase of mobile consumption on a daily basis, it is surprising that a lot of companies are not investing in mobile advertising yet. According to Statista, the mobile penetration is forecasted to reach 67% of the global population by 2019, which will account for 5.7 billion mobile users worldwide.
With these numbers in mind, companies that aren't investing in mobile advertising yet shouldn't think it twice. In an industry with a huge potential that shows all the signs to keep on growing, even Google itself is dividing mobile index from desktop index to explore its full potential.
Not convinced yet? Let's see the most compelling reasons to direct your digital transformation into exploring the full potential of the mobile world!
1. Potential Market Reach
As we already mentioned, there is a steadily increasing mobile penetration, with more than 4.77 billion phone users in 2017 – a number that is expected to increase to 4.93 billion in 2018, and 5.07 billion in 2019. In fact, the forecasts estimate that the number of smartphone users will account for 50% of all mobile phone users by the end of 2018.
Considering these numbers, there is no doubt that mobile devices, and especially smartphones, will remain a key player in our daily lives. Which makes mobile advertising one of the best ways to reach your potential buyer at the right time, with the right product.
2. Mobile traffic accounts for more than 50% of the web traffic worldwide
Before the rise of smartphones, you could only visit a website on your computer – but this no longer holds true. Nowadays, the strong growth of the smartphone market, along with the availability of cheaper and better mobile Internet connection, has transformed smart mobile devices into powerful tools for generating web traffic.
Last year, mobile phones served more than 50% of all the global webpage visits, a number that is estimated to increase by almost 2% in 2018. So, if your website is not mobile-friendly, you are missing out on a great opportunity for attracting potential customers!
3. Digital media time on mobile has surpassed desktop – it is time for Mobile Advertising to shine
According to MarketingLand and a cross-platform report released by ComScore, which tracks usage patterns across different channels and platforms, mobile now accounts for 70% of the time spent consuming digital media. In fact, while desktop and tablet media  time has been falling for the last years, mobile continues growing with no signs of slowing down.
Additionally, comScore points out that mobile advertising is more effective than desktop advertising, especially when potential buyers come closer to making purchase decisions. This could be due to the fact that mobile ads are great for targeting customers in proximity to the point of purchase, and there is less ad clutter in comparison to desktop.
4. Mobile search has officially surpassed desktop search
In 2015, the leading search engine Google announced that for the first time, mobile searches have surpassed desktop searches on a global scale. According to the graphic, which shows organic search engine visits in the USA, mobile searches still maintain a dominant role in generating traffic to engines like Google.
Taking into account that Google is separating its mobile paid search index from the desktop one, it is clear to see that it has grown to such a scale that it requires separate attention. It means that companies should design their campaigns specifically around mobile ads in order to attract potential buyers. With this in mind, it is just the right time to invest in mobile ads and obtain its full benefits before it gets overcrowded.
5. Mobile Advertising is surprisingly affordable compared to traditional media
While buying ad space on traditional media such as magazines, newspapers, and TV can be extremely expensive, mobile ads still remain really affordable for many industries. The graphic above shows that the average CPM (Cost per Thousand Impressions) for mobile ads is around 3 dollars, although it can vary between sectors and market niches. In comparison, the price for an ad in the local newspaper starts from 25 dollars, reaching 32 dollars on average! On TV, the price can be even higher.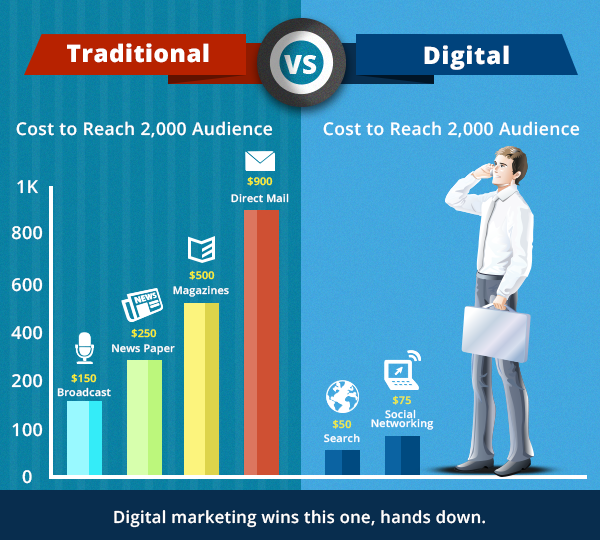 Additionally, this illustration shows us that the cost for reaching an audience of 2,000 people with efforts in Digital Marketing is significantly less expensive than reaching the same audience with traditional media.
With these solid reasons backed up by statistics, are you ready to start investing in mobile advertising?